APC Certified Replacement Cartridges

Genuine APC RBC(TM) are tested and certified for compatibility to restore UPS performance to the original specifications.
C&D Batteries
C&D Technologies, Inc. Standby Power engineers and markets batteries, electronics and fully integrated power systems which provide back-up battery power in the event of a primary power loss or interruption. Meeting the needs of customers in the telecommunications, uninterruptible power supply (UPS) and utility, switchgear and control, cable, broadband, and solar markets, C&D offers a wide selection of products for all of your Standby Power needs
Enersys Batteries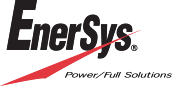 EnerSys is the global leader in stored energy solutions for industrial applications.
​
EnerSys DataSafe batteries are designed for use in UPS applications, which demand the highest levels of security and reliability.